South Africa and South African wine tours is on top of the travel list for many people in the world. Although it is often triggered by the desire to go on a safari and see the amazing beauty of the country, there are many good reasons to come to Cape Town and tour the Cape Winelands on a guided South African wine tour. You can visit the whole year around but the best time to go on a wine tour in Cape Town is generally between November and April, which is the region's summer season. During this time, the weather is warm and dry, and the vineyards are lush and green. The grape harvest typically takes place from January to March, so visitors during this time can witness the wine making process in action. Ultimately, the best time to go on a wine tour in Cape Town depends on your preferences and travel schedule.
In this blog post you will learn about these 9 reasons:
World-class South African wine
Cape Town and the Cape Winelands is home to some of the best wineries in the world, producing award-winning wines that are recognized globally. South Africa's wine industry is widely considered to be one of the world's most exciting and dynamic, and for good reason. The region's winemakers have been producing high-quality wines for centuries, with a focus on developing unique varietals and perfecting traditional techniques that can be experienced on a South African wine tour.
The South African wines are known for their complexity, balance, and depth of flavour, with a wide range of varietals available to suit every taste. Some of the most popular varietals produced in the region include Cabernet Sauvignon, Syrah, Chenin Blanc, Chardonnay and Sauvignon Blanc.
There are a variety of South African wine regions, the most famous ones being Stellenbosch, Franschhoek and of course Cape Town itself. One of the factors that sets Cape Town's wine industry apart is its unique terroir, or the combination of soil, climate, and topography that gives each wine its distinctive character. The region's proximity to the ocean and the mountains creates a wide range of microclimates, allowing winemakers to produce a diverse array of wines with different flavour profiles.
In addition to producing exceptional wines, many of the wineries in Cape Town, Stellenbosch and Franschhoek offer world-class tasting experiences that allow visitors to sample a range of wines and learn about the winemaking process. Some wineries even offer food and wine pairings, where visitors can enjoy gourmet cuisine alongside carefully selected wines.
Tip: Luhambo Tours offers a variety of guided wine tours suited to wine novices and connoisseurs alike as each tour is adjusted to the client's requirements and preferences and is run by an experienced specialist wine guide.
Beautiful scenery in Cape Town and the Cape Winelands
The wineries in Stellenbosch, Franschhoek and Cape Town are located in some of the most picturesque landscapes in the world, with rolling hills, lush vineyards, and stunning mountain views. Even beyond the well-known wine regions you will find amazing views and impressive locations, i.e in the Hemel-en-Aarde Valley in Hermanus or in Robertson along Route 62. The wineries that can be visited on a South African wine tour are set amidst some of the most breath-taking scenery in the world, making a wine tour in the region a truly unforgettable experience. Here are some of the features that make the scenery of the wineries in the Cape Winelands and Cape Town so beautiful:
Lush vineyards: The rolling hills and valleys are covered with vineyards, which are especially stunning when the vines are in bloom, or the grapes are ripening.
Mountain backdrops: Many of the wineries in Stellenbosch and Cape Town are located at the base of towering mountains, providing a dramatic and picturesque backdrop for visitors.
Natural water features: Several wineries in the Cape Winelands are situated near natural water features, such as rivers, streams, and dams. These tranquil bodies of water add to the serene ambiance of the wineries.
Unique flora and fauna: The Cape Floral Kingdom, which is found only in this region of South Africa, is home to a wide range of unique plant and animal species that can be seen in and around the wineries.
Historical architecture: Many of the wineries especially in Cape Town and Stellenbosch are housed in historic buildings, such as Cape Dutch-style manor houses or Victorian-era estates, which add to the region's charm and character.
Overall, the scenery of the South African wineries is a feast for the senses, with vibrant colours, captivating landscapes, and diverse ecosystems that showcase the natural beauty of the region. Whether you're a wine enthusiast or simply enjoy stunning vistas, a wine tour in Cape Town is sure to be a memorable experience.
Tip: To experience the unforgettable scenery of South Africa and Cape Town, we'd recommend booking either Luhambo Tours' Cape of Good Hope & Constantia Winelands Tour or the 3 Day Winelands Tours that covers Cape Town, Stellenbosch, Franschhoek and Paarl.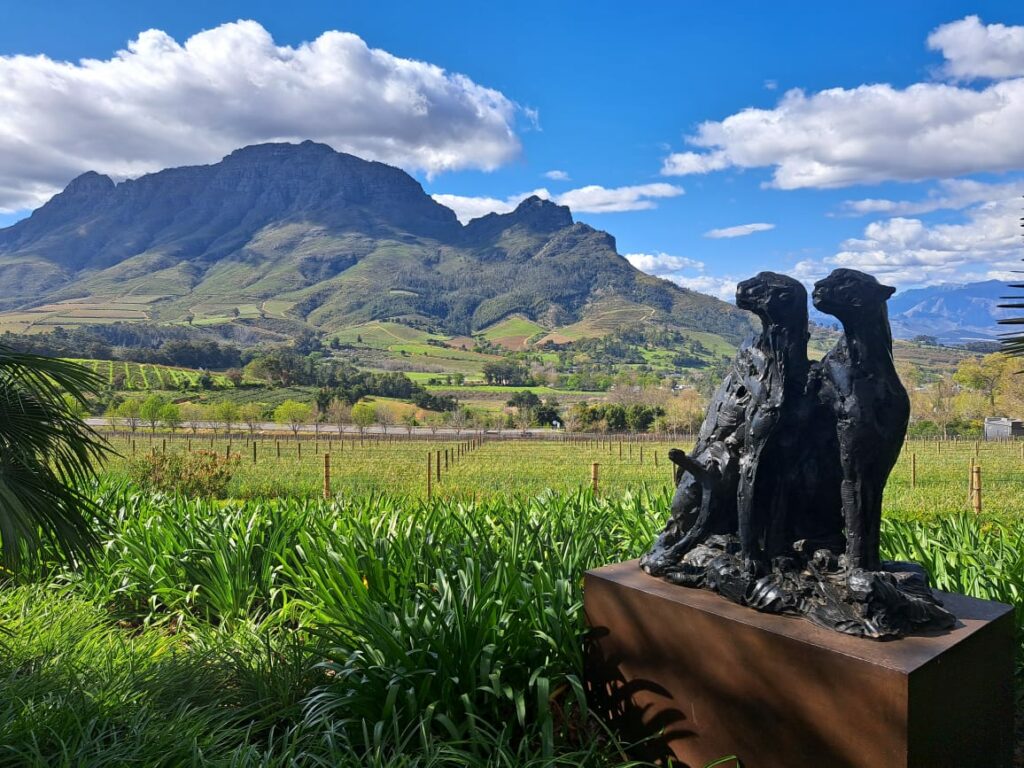 The rich history of the South African wine industry
The wine industry in South Africa has a long and fascinating history, dating back to the 17th century. The Dutch settlers who arrived in the Cape Colony in 1652 brought with them vine cuttings from Europe and began planting vineyards in the region shortly thereafter.
Over the next few centuries, the wine industry in South Africa grew and flourished, with the Cape becoming one of the world's largest wine producers by the early 1900s. However, the industry also faced many challenges, including political turmoil, economic downturns, and the devastating effects of phylloxera, a vine disease that decimated many of the region's vineyards.
Despite these challenges, the wine industry in South Africa persevered, with winemakers continuing to innovate and experiment with new varietals and techniques. In recent decades, South African wines have gained recognition around the world, with many wineries receiving international awards and accolades.
Unique South African varietals
South Africa is known for producing a diverse range of varietals including the unique and famous Pinotage that was bred in the country. Here are some of the most notable varietals produced in South Africa:
Pinotage: This is a red wine grape variety that was created in South Africa in the early 20th century by crossing Pinot Noir and Cinsault (also known as Hermitage) grapes. It has a distinctive flavour profile that is often described as smoky, earthy, and with notes of dark fruit.
Chenin Blanc: This is a white wine grape that is also known as Steen in South Africa. It is the most widely planted varietal in the country and is known for its versatility, with styles ranging from dry to sweet and sparkling. Chenin Balance grapes are also used to produce South African award-winning brandies.
Cape White Blend: This is a blend of different white varietals that is unique to South Africa. The blend typically includes Chenin Blanc, Sauvignon Blanc, and Semillon, and produces a wine that is refreshing, aromatic, and well-balanced.
Cape Red Blend: A term commonly used in South Africa for a typical cuvée, but for which there are no legal requirements or uniform rules. The blend consists of the local main or determining variety Pinotage (between 30-70%), as well as in different composition and use of Cabernet Sauvignon, Merlot and Shiraz (Syrah).
Pinot Noir: While Pinot Noir is not unique to South Africa, the country's cool climate and unique terroir produce a style of Pinot Noir that is distinct from those produced in other regions. South African Pinot Noir is often described as lighter-bodied and more delicate, with bright fruit flavours and a subtle earthiness.
Cinsault: This is a red wine grape that was once widely planted in South Africa but fell out of favour in the mid-20th century. However, in recent years, there has been a resurgence of interest in Cinsault, with winemakers producing elegant, medium-bodied wines that showcase the grape's subtle flavours and aromas.
The unique and well-known varietals produced in South Africa are a testament to the country's diverse terroir and the creativity and innovation of its winemakers. Whether you're a wine enthusiast or simply looking to try something new, South African wines offer a range of flavours and styles that are sure to impress.
Tip: If you want to deep-dive into South African wine, book one of our day or multi-day guided South African wine tours with one of our experienced specialist wine guides!
Delicious culinary experiences in Cape Town and the Cape Winelands
Wine tours often include gourmet meals or tastings paired with local cuisine, providing a delicious culinary experience.
The Cape Winelands in South Africa are known not only for their world-class wines but also for their delicious and diverse cuisine. Franschhoek is the gourmet capital of South Africa, and some of the world's best fine dining restaurants can be found in this picturesque town in the Cape Winelands.
Here are some of the notable dishes and food experiences you can enjoy in the Cape region:
Braai: A braai is a traditional South African barbecue that is a staple in the country's cuisine. Meat, fish, and vegetables are cooked over an open flame, often accompanied by flavourful marinades and sauces.
Biltong: Biltong is a type of cured meat that is similar to beef jerky but with a distinctive South African flavour. It is often made from beef or game meats and is a popular snack or appetizer.
Bobotie: Bobotie is a traditional South African dish that is made with minced meat, spices, and a custard-like topping. It is often served with yellow rice and is a flavourful and hearty meal.
Cape Malay cuisine: Cape Malay cuisine is a fusion of South African, Indian, and Southeast Asian flavours and techniques. Dishes often include curries, samosas, and other spicy and aromatic dishes.
Wine pairings: Many restaurants and wineries in the Cape Winelands offer wine pairing experiences, where the dishes are specifically designed to complement the flavours of the wines. This can range from simple cheese and wine or chocolate and wine pairings to multi-course tasting menus.
The cuisine of the Cape Winelands is a reflection of the region's diverse cultural influences and the high quality of locally sourced ingredients. Whether you're a meat lover, a fan of spicy dishes, or simply looking to indulge in delicious food and wine pairings, the Cape Winelands offer a range of culinary experiences that are sure to please your taste buds.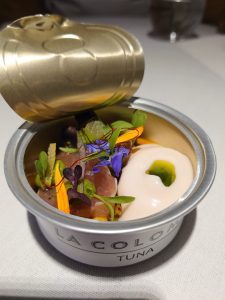 Tip: To experience fine dining in Franschhoek, book one Luhambo Tours Wine & Dine Tour under private and customised tours.
Expert wine guides on South African wine tours
When it comes to South African wine tours in Cape Town, having an expert wine guide like Luhambo Tours provides on all its tours can greatly enhance your experience and appreciation of the region's wines and wineries. Here are some of the reasons why having an expert guide is valuable:
Knowledge: An expert guide will have in-depth knowledge of the local wine industry, including the history of the region, the winemaking process, and the unique characteristics of the local varietals. This knowledge can enhance your understanding and appreciation of the wines you taste.
Access: Expert guides often have personal connections with winemakers and winery owners, which can provide access to exclusive tastings and behind-the-scenes tours.
Personalization: An expert guide can tailor your wine tour to your interests and preferences, ensuring that you visit wineries and taste wines that align with your taste.
Convenience: An expert guide can take care of all the logistics of your wine tour, including transportation, reservations, and itinerary planning. This can make for a stress-free and enjoyable experience.
Safety: Drinking and driving can be dangerous, especially in unfamiliar areas. Having an expert guide who is responsible for driving can ensure that you can enjoy the wine tastings without having to worry about getting behind the wheel.
An expert wine guide can greatly enhance your wine tour experience in Cape Town, providing knowledge, access, personalization, convenience, and safety. Whether you're a wine enthusiast or simply looking to enjoy a day of wine tasting, a guided tour with an expert guide can help make your visit to South African wineries an unforgettable experience.
Tip: Check out the Luhambo Tours team of specialist wine guides and their reviews on TripAdvisor and Google!
Variety of South African wine tour experiences
There are many different types of South African wine tours available in Cape Town, from private tastings to group tours to full-day excursions and multi-day tours. The two most popular wine tours offered by Luhambo Tours are:
Private Cape of Good Hope & Constantia Winelands Tour: This tour is especially for guests with little time in Cape Town. They can visit the famous Cape of Good Hope and Cape Point as well as the penguin colony in Boulders Beach in the morning followed by wine tastings at two wine estates in the Constantia Winelands outside Cape Town in the afternoon.
Private Stellenbosch & Franschhoek Winelands Tour: The classic! Guests learn all they need to know about South African wine in one day by visiting four different iconic or boutique-style wine estates with outstanding wines and breath-taking views in the Cape Winelands.
In addition, Luhambo Tours offers private and customised tours to all other wine regions South Africa, for instance the Hemel-en-Aarde Valley in Hermanus, the Swartland, Robertson, Elgin and Elim. There is also a popular three-day winelands tour that includes bed & breakfast accommodation at a four star guesthouse in Franschhoek. However, customers can also book multiple day tour where they can explore the various wine regions for various days and even weeks!
Tip: Get in touch with Luhambo Tours to find the perfectly suited guides wine tour for you!
Pricing of South African wine tours
South African Wine tours in Cape Town are often reasonably priced, making them accessible to a wide range of travellers. The cost of a Cape Town and South African wine tours can vary depending on several factors, such as the type of tour, the number of wineries visited, the transportation used, and the level of service provided. Here are some factors that can affect the pricing of Cape Town wine tours:
Private vs. group tours: Private tours are typically more expensive than group tours as they provide a more personalized experience with a dedicated guide and customized itinerary.
Number of wineries visited: The cost of a wine tour can also depend on the number of wineries visited. Tours that visit more wineries are likely to cost more than those that visit only a few.
Transportation: The type of transportation used can also affect the cost of a wine tour. Tours that include private transportation or guided tours are usually more expensive than those that require visitors to drive themselves.
Level of service: The level of service provided can also impact the cost of a wine tour. Tours that include luxury amenities, such as gourmet meals or private tastings, are typically more expensive than standard tours.
In general, wine tours in Cape Town can range from around $50 to several hundred dollars per person, depending on the above factors. However, guests travelling from many countries enjoy favourable exchange rates from USD or Euro to South African Rand, which makes South African wine tours an attractive activity – especially if you compare the rates to other wine tour destinations in the world.
Hospitality and warmth of South Africans
South Africans are known for their hospitality and warmth, and this extends to the wineries in Cape Town and the Cape Winelands, where visitors are welcomed with open arms and treated like family. Here are some of the reasons why South Africans are known for being welcoming and friendly:
Cultural diversity: South Africa is a diverse country with a rich mix of cultures and languages. This diversity has fostered a culture of acceptance and understanding, and South Africans are generally welcoming towards visitors from all over the world.
Ubuntu philosophy: The Ubuntu philosophy is a way of life in South Africa that emphasizes the importance of community and relationships. This philosophy emphasizes treating others with kindness, generosity, and respect, which extends to visitors as well.
Pride in their country: South Africans are proud of their country and its natural beauty, history, and culture. They are often eager to share their knowledge and experiences with visitors, whether it's recommending a local restaurant or sharing stories about their favourite spots in the country.
Passion for hospitality: South Africans are passionate about hospitality and are known for their high level of service in the hospitality industry. This passion extends beyond just the service industry, as South Africans often go out of their way to make visitors feel welcome and comfortable.
Love of sharing food and drink: South Africans love to share their food and drink with others, whether it's a braai (barbecue) with friends or a wine tasting with visitors. This generosity reflects the country's culture of hospitality and is often appreciated by visitors.
South Africans are known for their welcoming and friendly nature, and visitors to the country can expect to be greeted with warmth and hospitality. Whether you're exploring the Cape Winelands or visiting one of South Africa's cities, you're likely to encounter locals who are eager to share their culture and experiences with you.
Tip: Subscribe to Luhambo Tours' newsletter to learn more about South African wine tours and the best of Cape Town and the Cape Winelands!