Are you in search for the perfect Cape Town wine tour in South Africa? With the Western Cape's variety of picturesque landscapes, and over 300 wine farms, not to mention the burgeoning wine tour industry, choosing which wine tour to go on can be an overwhelming task. Your preferences may vary based on factors like your personality, down to less exciting details like transportation preferences. Let's look at some of the things you'll want to think about when selecting the perfect wine tour to fit your wants and needs.  
Your personality
An American survey found that white wine drinkers are more likely to be night owls and extroverts, as well as more likely to listen to punk music. Red wine drinkers were more likely to identify as early birds, listen to jazz, and consider themselves to be "wine aficionados". This same study found to white wine drinkers were also more likely to identify as curious, sarcastic and to be perfectionists while and on the other hand, red wine drinkers were more likely to identify as adventurous, humble and organized.
Whether or not you are a bookish white wine drinker or a wild party-animal red wine drinker and think this is hogwash, there is no doubt that your personality will influence what sort of wine tours you prefer. The more outgoing soul might prefer a group tour with strangers on some of the more commercial and less custom offerings. Those that prefer more intimate groups while still enjoying fun and camaraderie (who doesn't?) might opt for smaller group tours. The tours we offer seat a maximum of seven people to try to balance intimacy and social interaction, but private tours can be arranged for the shy. Smaller groups often allow for a more leisurely pace, within reason, given the fact that the point of a tour is usually to try to show you as wide a range of venues as possible for the duration of the tour.
The more curious and cultural tourist might well prefer a smaller group tour for your Cape Town wine tour, as access to a professional guide means you get to listen to them share their extensive knowledge on things like the area, its history, and what to expect and look out for when tasting wine from each farm. Often your guide may be familiar with the winemakers or estate owners, and you may get access to private tours, or more unique experiences than are available to larger tour groups.
Larger groups will likely experience varying service, as general tasting room staff at wine farms vary in their skill and knowledge, and often being confronted by a rowdy bus load of tourists mean that you may get the watered down version of what a professional guide might tell you. If you're more of a party animal than a scholar, this might suit you just fine.
Fast or slow pace
For those of you who thought a more commercial option might be for you, think about your preferred pace.
With larger groups, to linger until the last stragglers are ready to move on would be to miss some of the stops.
Like Contiki tours of Europe, some report that this feels like you're constantly being rushed to move on, causing you to throw your wine tastings down the hatch.
Choosing smaller group tours for your Cape Town wine tour allow for a little more time per farm, provided the group are happy to agree to spend more time at one farm and risk rushing through others, or perhaps skipping a planned stop. With smaller groups, it is easy to reach a consensus.
For those who really want to take their time, private Cape Town wine tours mean that you can request that your guide rather give you a more in depth tour of wine farms to which they might have behind the scenes access and spend longer at those, rather than trying to squeeze in more stops.
Another option is to choose a wine tour company that has multi-day tours.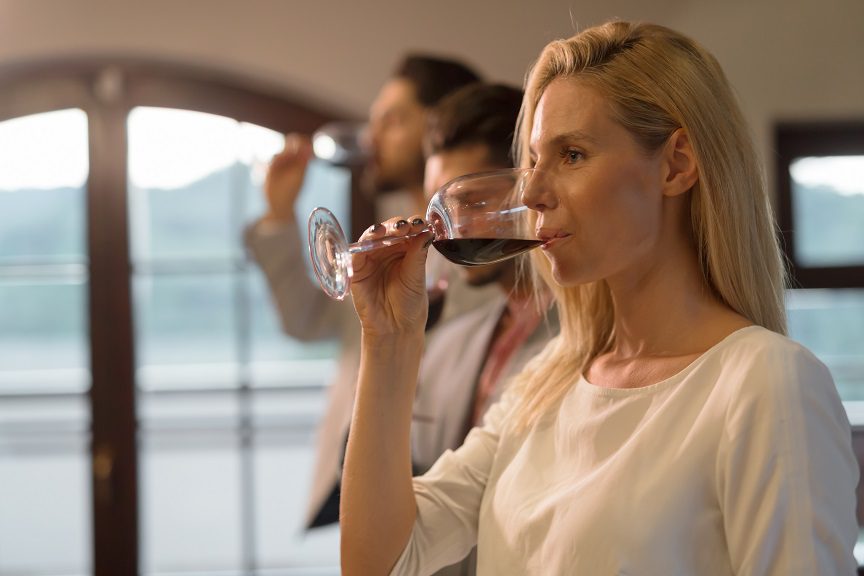 Cape Town wine tours: Mainstream, or off the beaten track?
Do you believe that there is truth in numbers, and would rather see the most popular spots? Or are you more of a hidden gems, off-the-beaten track kind of wine tourist?
Both options have a lot to offer. Large farms like Groot Constantia see busloads of tourists come and go daily, and greet them with well-curated museums, group cellar tours and popular restaurants. There is even a car museum at Anthonij Rupert wine estate in Franschhoek. Other large farms popular with tourists such as Babylonstoren feature exquisite gardens and farm-made produce and gifts. Fairview is famous for its goat and cow's milk cheeses, and their cheese wine pairings are popular with locals and foreigners alike.
Various large and small tour companies will stop at these tourist favourites.
However, mainstream isn't for everyone. Some small Cape Town wine tour operators encourage requests, and will have a few options lined up if tour-goers state a preference for rarer, more intimate experiences. After all, some people simply prefer the feeling of sipping on a rare and precious treasure, feeling like they know a secret the mainstream wine tourists do not.
While many tours are constructed around the widest appeal, you should ask your wine tour company if they can offer you something a little more unique, if that is what you're after. Go on, ask us…
Helicopters, Ubers and limousines – how do you want to go?
For those who want to go wine tasting without relegating someone to being designated Dave, Uber is an option, but the costs of using Uber to drive you from wine farm to wine farm, coupled with the lack of availability of drivers in more remote, rural areas means that this option is far from ideal, if this is how you plan to tour the winelands. You could hire a car, but that would require one saintly co-traveller to spit instead of swallow all day. There are other drawbacks to self-drive over wine tours, which we've written about in this popular article here.
So besides Uber and self-drive, and the commercial options already mentioned, what are your other transport options for Cape Town wine tours?
For the rich and adventurous and not afraid of heights, helicopter tours to the winelands exist, although these are arguably more about the flights than the wines, with fewer wine farms as stops on the way as most do not have heli-pads.
Some wine tours take place on horseback or by bicycle, which is fantastic for the brave and more physically active, but there is a limit to how much wine you can actually taste and still stay the right way up on a horse or bicycle. Carrying any wine purchases can also be challenging.
Smaller tour operators will fetch you from your accommodation from most Cape Town city center locations, spend the whole day driving you around in limousines or mini-buses, and drop you home later, allowing you to see a range of farms, taste some wines, learn about the winelands and generally stay out of the way of physical harm or discomfort for the day. Contact us if that sounds like your thing.
To pair or not to pair?
Do you like new and shiny things? While cheese and wine pairings have been popular since the 1970s, you might be surprised to know that they actually don't go that well together, as learned by one of our tour-goers.
However, various farms, notably Fairview, offers excellent cheese and wine pairings using their wide range of both wine and dairy produced on and by the farm, and you can see (and smell) their magnificent goats climb decorative towers and walkways on the paths to the tasting room.
Other than the more traditional cheese and wine pairing combo, many farms have added some novelty to their standard wine tastings, with some pairings including artisan charcuterie, chocolate, cupcakes, even Turkish delight.
These options tend to be less exciting to serious wine drinkers, but speaking to your guide about the possibility of including a stop that does pairings on your wine tour can add some interest for the more casual wine drinkers on your tour, or even serious wine drinkers with a penchant for artisan nibbles.
Guided tours often have their planned itineraries that may or may not include pairings. Private or custom tours are a better option if this sounds tempting, as you'll be able to speak to your guide about making a special arrangement for you and your group.
Of course, the Cape Town area and surrounding winelands are known for excellent fine dining, and many restaurants offer multi-course tasting meals with wine pairings. There generally won't be time for such a tasting in the middle of a day tour, so rather go for a wine and dine tour option which may stay overnight and allow for such a dinner experience.
Lastly, where do you want to go on your Cape Town wine tour?
The Western Cape, South Africa is home to some of the most picturesque wine farms on the planet. The only question regarding that then is: what sort of picture do you want it to be?
Stellenbosch and Franschhoek are within 45 to 60 minutes to just over an hour's drive from the city center respectively, and offer spectacular mountain views with open farmland.
Constantia, on the other hand, is a little closer to the wealthy southern suburbs of Cape Town, with views of the lush green backside of Table Mountain, with many trees, with steep vineyards tucked around the bends. Some wine tours to Constantia include a visit to fairly nearby Cape Point nature reserve, where the Indian and Atlantic Oceans meet, and you may even get to squeeze in a visit to Boulders Beach to see the penguins.
Those who prefer to keep away from the busiest tourist areas may choose coastal regions like Overberg, with nearby town being Hermanus – popular with whale-watchers – and Elgin. The wines from farms from these regions are cooled by sea breezes, which adds a different character to those grown in warmer regions like Stellenbosch.
The Elgin Valley also offers a range of hidden gems and its farms have been growing in popularity, as has charming and arty Tulbagh, with it's beautiful valleys perfectly suited to the production of award-winning South African sines.
Like Tulbagh, the Swartland wine region is located north of Cape Town stretching from Darling to Portervile and gets its name from the indigenous Renosterbos, which turns to a darker "swart" (black) colour during some parts of the year. The landscape is mountainous and pastoral with sheep-dotted hills. As a wine region it's slightly more obscure, something which those that like to go off the beaten path will appreciate, along with a signature glass of full-bodied Swartland red of course.
Regardless of which region you choose, you are almost guaranteed beautiful scenery, so it merely comes down to preference. If you'd like to learn more about the history, wines and features of each region, subscribe to our mailing list and receive our free Cape Town winelands guide.
We hope that this list of considerations helps you to choose your perfect wine tour in Cape Town and surrounds. If you would like any help or advice, please contact Luhambo Tours, and we can help find you what you need.